DEBUT ALBUM 'LOOK OUT' RELEASES JULY 21st 2023
LOOK OUT – The long awaited debut LP from LOBSTERBOMB releases digitally on July 21st 2023 via Duchess Box Records. The limited-edition transparent red vinyl will be available from August 11th and is available to pre-order now.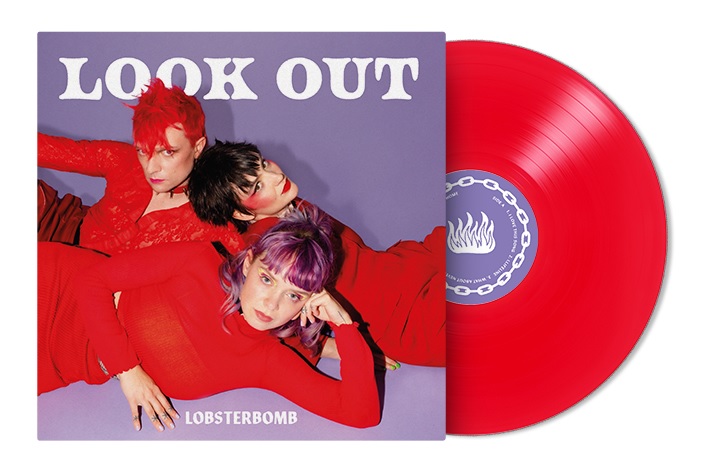 In a whirlwind of noise and colour Berlin's Lobsterbomb arrived in 2020. Since then they have been bringing their raw and energetic performances across Germany. Mixing introverted and self-reflective lyrics with extroverted and loud sounds spanning indie pop to post-punk, Lobsterbomb is always ready to go.

Lobsterbomb's debut album "Look Out" will be released on 21st July 2023, on a limited edition red vinyl. The band take the album name from their observational approach to songwriting, portraying their experiences and the world around them. The band recorded their album in their Berlin rehearsal studio over a period of around twelve months, focusing song by song.
"It's a beautifully rough rollercoaster ride through our subconscious minds." says Nico.


Lobsterbomb have been building a following and touring all over Germany with acts such as Pabst, Itchy and Death Valley Girls  and have started to gain international attention with press and radio in USA, Brazil, UK, Japan and Australia with their first singles.

"I have a bit of an obsession with a band from Germany called LOBSTERBOMB, I think they are magnificent" says legendary Duran Duran frontman Simon Le Bon on his American radio show on Sirius XM. 


The band met via an instagram notice board for musicians "We Formed A Band" set up by the band Gurr, having no idea at the time it would lead to them signing to the very same label that discovered Gurr, Duchess Box Records.